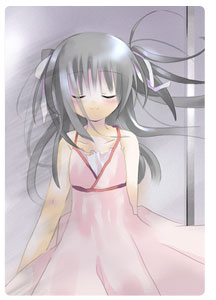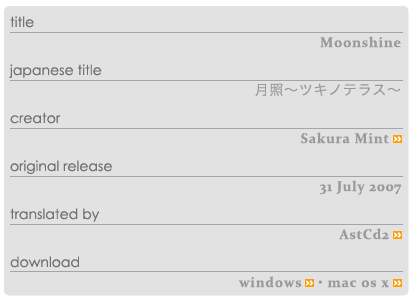 Frontmatter
This is a piece that takes on a subject still considered taboo by most Japanese people, and it does so with great warmth and sensitivity. I'd consider it a success even if that were the only thing it had going for it, but it also happens to display very high production value for a freeware novel game — making this a work that really ought to be experienced no matter what your attitude toward novel games is. For this is the story of 'Mai' — a sensitive young soul who is neither really male or female. This is the story of the unnamed protagonist — who finds himself suddenly without a means to support himself due to factors completely outside his control. This is the story of an entire generation — that finds itself attempting to navigate the treacherous abyss that lies in between childhood and true adulthood. This is the story of a nation — that finds itself struggling to come to terms with a lost decade and a rapidly-changing social climate. This is a story of these things and more.
This is a story of us all.
When this piece was originally released, it was met with a wide variety of reactions, ranging from outright disgust to restrained curiosity to warm praise. It is true — there is no accounting for the tastes and prejudices of your readers. But as a writer, you would hope that every once in a while, people would look beyond the walls they've boxed themselves into, see how others slip through the cracks in the unsteady foundations of this world, and react with compassion. That is why I was very happy when I found out that this piece had been awarded a "recommended" rating by NaGIsa, a respected independent creator and critic of freeware novel games.
And so, without further ado, AstCd2 and all the rest of us here at al|together 2008 present with great pride the crown jewel of this festival season.
This localization utilizes a customized build of the GPL'd NScripter clone, ONScripter-EN.
30 November 2008
Seung Park
Festival Coordinator, al|together 2008