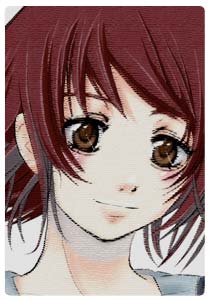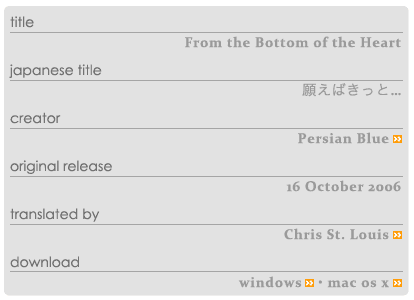 Frontmatter
From the Bottom of the Heart is a short visual novel released in late 2006 by the now-quiescent circle, Persian Blue. It tells the story of a young man who has recently been treated for a serious illness, and who finds a certain kind of redemption in the most unlikely place. This is the shortest work to be presented at al|together 2008; total read time clocks in at about five minutes.
This localization adheres to the highest standards of translation quality that we can offer; the original translation by Chris St. Louis was capable to begin with, and it was extensively peer reviewed. The end result, as far as I am concerned, stands as an excellent English translation that any translator (professional, amateur, it doesn't matter) should be proud to put his name to. It is therefore with excitement and pride that Chris — and all of us here at al|together 2008 — presents this as the leadoff piece of this season.
This localization utilizes a customized build of the GPL'd NScripter clone, ONScripter-EN.
27 November 2008
Seung Park
Festival Coordinator, al|together 2008