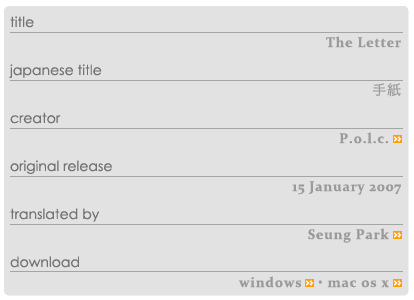 Frontmatter
This is an English localization of 「手紙」, a short novel game originally released in 2005 using Yuuki!Novel, then remade and rereleased in 2007 using NScripter. It takes as its subject matter the meaning of "family" in an increasingly fragmented world, and clocks in at around an hour's reading time. It has several choice points, but none of them have any real effect on the outcome of the story.
Its only graphics are blurred stock photographs culled from online sources. All of its music is likewise borrowed. Despite this minimal production value, responses to this piece have been generally quite favorable, even garnering a "recommended" rating from the prolific and well-respected freeware novel game critic, NaGIsa — no small feat for a young author then completely new to the scene.
After 「手紙」, P.o.l.c. has gone on to author several other freeware novel games, all of which have gone on to substantial critical acclaim (for more details on this fascinating circle, please go here). Artwork has certainly become slicker in recent releases, and production values have steadily risen — but the warmth and the innocent flair of the writing has always remained at the forefront. I have no idea where this group will end up, but I certainly know that this is how it all began: a handful of words, a letter, a silent landscape, a dream ...
... and a world entire.
This localization utilizes a customized build of the GPL'd NScripter clone, ONScripter-EN.
29 November 2008
Seung Park
Festival Coordinator, al|together 2008